Click on Play to listen to Tina's experience…

Tina – 3 Months with MAK4

"I have been using MAK4 for 3 months now. I got to know MAK4 through a friend and ever since I started using it, things have been much much much better with my face. I had so many pimples and spots in my face but I am looking really much better now.
One thing I like about MAK4 is that, it doesn't bleach and it gives you that glowing face, you face is always glowing. I am in love with MAK4."

Click on Play to listen to Hilda's experience.

Hilda at 3 Months of using MAK4

"Before I was using strong bleaching products that damaged my skin. I had black brown patches in my face that I couldn't do without foundation, then
my body was a bit darker compared to my face. But a few months back when I started using MAK4, I realized there was a big difference. I got an even skin tone
from head to toe and then a glowing skin in my face because MAK4 uses natural products that don't bleach. Thank you MAK4 for giving me the natural looks"

Click on Play to listen to Irene's experience.

Irene at 8 Months of using MAK4

"I have been using MAK4 for some months now. My skin is so sensitive. I had failed to find the right product for my face. I would always react, develop a rash, I was tired. I thank God I found MAK4. My skin looks good, I look healthy and it is glowing."
Want to Be an Agent?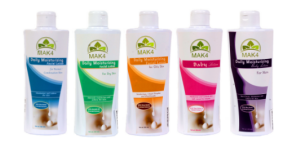 We need to get closer to our customers.
Do you want to sell MAK4 Natural Skin Care Products?
Do you own a Pharmacy, Supermarket or Cosmetic Shop?